"Wild Lepre'Coins" by Aristocrat is truly inspired by classic Irish folklore and its unique culture. Thus you will notice a lot of greenery on the pokies reels of Irish good luck vibes in this game.
The entire background of this particular slot game features a deep green theme along with some iconic Irish ornaments and it's 100% fun and free to enjoy on your iPad or iPhone today at the cracker Heart of Vegas casino, you cannot play Wild Lepre'Coins  for real money online.

Two other great free Aristocrat pokies to play online right from your Android, iPhone or iPad are the Wild Ameri'Coins and the Wild Fiesta'Coins slot machines.
Wild Lepre'Coins Quick Start Free Play Guide :
With such beautiful landscape, this slot game also features an array of vibrant & unique symbols. Also, this game presents you an easy & straightforward gameplay with great graphics & matching soundtrack. Therefore, before starting the game, reveal its key features & enjoy a pleasant gaming experience.
Paylines 101 :
This game features a total of 30 pay lines. With such huge pay line structure, you will have enough opportunities of hitting a perfect winning combination.
Maximum & Minimum Bet :
In order to play this game, you will need to place a minimum wager amount of 12,000 coins. Also, you can place a maximum betting amount with 72,000 coins.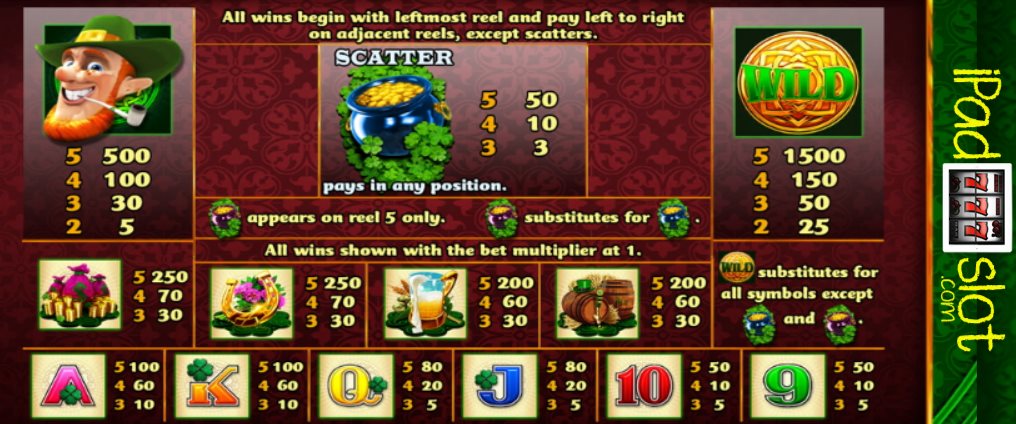 Game Rules :
This game allows you to place your bet in coin denomination. Plus, all the wins are also calculated in coin denomination too. Here, all the lines are played at a line cost of 60 coins. Total Bet = 60 coins * Bet Multiplier.
Choose your total bet prior starting the game and then use the "Spacebar" key or the "Spin" button in order to initiate a game.
Game Symbols :
Wild Lepre'Coins features a plentiful of interesting gaming symbols. Here, you can find the most common symbols such as the standard card icons which result in a relatively lesser payout.
Other than that, there are a wide variety of potential game symbols, such as the barrels, golden horseshoe, a pint of ale, gold sacks, and the leprechaun himself etc.
Also, you will find the wild icons (the golden coins with an overlaying text of Wild) and the scatters that are represented by the pot of gold coins. Here to mention, the wild icons can replace all other symbols except the scatters.
Bonus Features Explained :
This online slot game features a versatile bonus feature. Here, with three or more scatter symbols, you will win free games (as listed below) :
With three scatter icons, you will win 7 free games.
With four scatter icons, you will win 10 free games.
With five scatter icons, you will win 20 free games.
Now, if another scatter icon (a violet-colored pot filled with gold coins) substitutes a win, that win will be multiplied by 2x, 3x, or 5x multiplier.
Extra Bonus Wild Feature :
The Extra Bonus Wild Feature can be triggered randomly during the free spins. Now, a random number of Wild icons will appear on the reels. Also, a multi-wild icon will appear randomly on any particular reel position.
With this, you will encounter too many wild icons during this feature. The total of wild icons that appear on the reel window can be a maximum of 15.
Plus, if the scatter icons appear just beneath the wild icons, they will contribute to a scatter prize!
Payout Structure :
This game features a decent payout structure. Here, the wild icon is the top-paying symbol. For example, with five wilds, you will win the highest payout of 1,500 coins.
Also, another rare symbol, the leprechaun himself awards you 500 coins (with a combination five leprechaun symbols).
Now, five golden horseshoes can award you 250 coins. Similarly, five gold sacks also offer you 250 coins.
Note, five barrels and five pints of ale reward you with 200 coins respectively.
The Final Say :
Featuring generous bonuses & random wild feature, Wild Lepre'Coins has established a remarkable popularity in its category. So, don't hesitate to embark your gaming experience with this game and discover the Irish folklore & its culture at Heart of Vegas for the free play version, or go to our reviews to see real money iPad casinos with Aristocrat games.
Big Win on Wild Lepre'Coins Slots Below