Sushi Express is Amaya's creation, which follows a positive theme of sea food.
The game contains 5 reels and 30 paylines with quite boring bonus features.

Slot layout
The slot setup of Sushi Express provides a wonderful layout of fishes and sea food.
The background music and theme of the game are undoubtedly great for the vibe of the game when playing.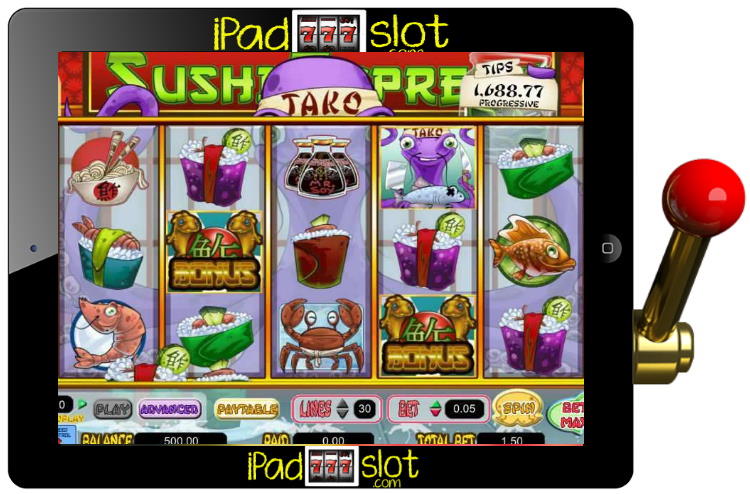 Reel symbols
The characters of the game are based on the Japanese food recipes and fishes. The sea food-themed game have the entire slot with fishes.
Base game pay tables
Crabs: The crab-imaged symbol is the highest payout of the lot, and gives away 500 coins for appearing 5 times. For the symbol appearing 4 times, the payout is 100 coins and finally, for the symbol appearing 3 times, the payout is 25 coins.
Sushi: Alongside the crab-imaged symbol, this is the 2nd highest payout symbol and has exactly the same payout as that of the crab.
Lobster: The lobster-imaged symbol is the next one in a list, and this gives a payout of 250 coins for appearing 5 times in the reels. For the symbol, appearing 4 and 3 times, the payout is 80 and 20 coins respectively.
Low Payoff Symbols: Like any other slot machine games, low payout symbols finally conclude the entire slot, and this contains fishes and recipes of sorts. The payout of a maximum of 150 coins can be won with these symbols.
Bonuses
Wild: This is represented by the Octopus Chef, which is considered as a main character of the game. It appears in the regular gaming reels for a majority of times. It predominantly works as a trump symbol, which will substitute all the low payout symbols except for the scatter. Moreover, a Wild symbol brings 2x the greater prize than the top-ranked symbol of the game and contains self-payout schemes. For an instance, the symbol pays 1000 coins for appearing 5 times. For the symbol appearing 4 times, the payout is 400 coins and for appearing 3 times, the payout is 50 coins.
Scatter: The Scatter symbol only appears on reels 2, 3, and 4. For the symbol appearing 3 or more times, the bonus feature is activated.
First Phase Bonus: The first phase of a bonus round requires the player to pick fish pieces on to the carrier. This will start and require the players to collect buttons. In the end, the number of coin prize will result in free spins.
Second Phase Bonus: In this phase, free spins, which will be earned in the first phase will reward the players into a round that contains to choose more lucky symbols.
Summary
Sushi Express by Amaya Gaming is a fun food themed slot by the developers which is based on a very innovative concept featuring Asian delicacies.
The game has some intriguing features and characters, which are bound to give some great excitement for players.