Wild Rhinos are one of nature's most magnificent & powerful creatures. Taking this theme into consideration, this slot game has been developed by Aristocrat. Rhino Charge features a variety of wildlife creatures that are beautifully captured from the grass plains of the native African Serengeti.
Apart from the strong & powerful rhinos that have an exquisite golden tint to their skin & pearl white horns, you will also encounter other gaming symbols, such as zebras, giraffes & meerkats. Plus, this free iPad slot game also reveals various interesting images with clarity & plenty of colour.

Rhino Charge iPad Slots Quick Start
Paylines :
This online slot game, Rhino Charge features a total of 30 different pay lines.
Maximum & Minimum Bet :
You can easily play this game by placing a minimum bet of 10,000 coins. However, if you want to place the maximum wager, the total bet will be 120,000 coins.
Game Rules :
This game consists of 11 sets of 5 reels. During each spin, one of the eleven reels will be randomly selected for that spin. The wins will be calculated & displayed in coins. Here, all lines are played for a line cost of 40 coins. Total bet = Line cost * Bet Multiplier.
Choose your total bet and then use the Spacebar key in order to initiate a spin and start racking up some wins.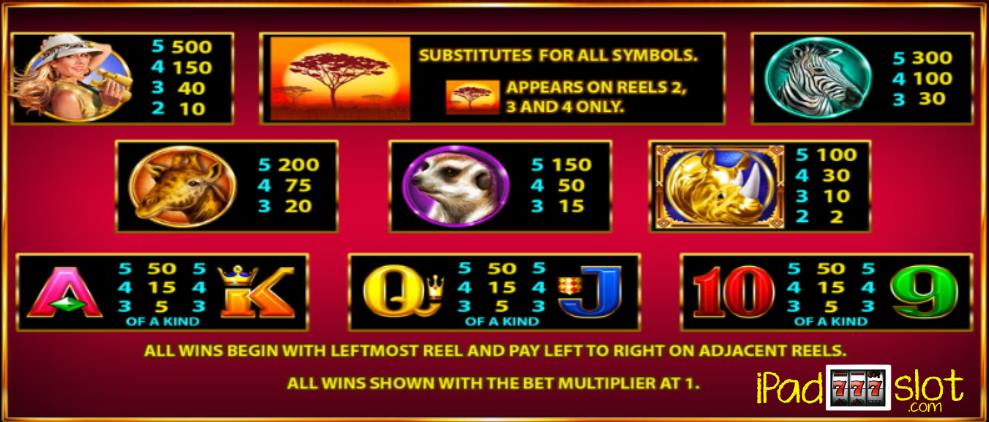 Game Symbols :
This beautiful pokie features a plethora of interesting game symbols including the wild symbol & the scatter symbols. Here, the wild symbol is depicted by an icon showing a wonderful sunset over the native African plains.
Although this particular icon doesn't necessarily offer you any direct payout, however, it will help the players to hit winning combinations by substituting all other symbols in this game whenever it appears on 2nd, 3rd or 4th reel. Another important symbol is the golden rhino icons that triggers the free spins round.
Bonus Features :
With this game, you can actually select or pick a bonus as it offers the players a wide selection of various bonus games, starting with simple free spins. Plus, you can win 8, 10, or 15 free games using the three or more golden rhino symbols. Here're the details :
Free Spins : With three, four, and five rhino symbols, you can win 8, 10, or 15 free games respectively.
Feature Choice : If you can win a total of 20 or more free spins using multiple line-bet combinations, you will be offered a choice of various bonus features. You can either select super free games, free games, or bonus prize.
Super Free Games : Here, this feature will offer you lesser free games with greater stacks of potential gaming symbols. With this, you will certainly have an extra chance to trigger more paylines in order to hit bigger winning combinations.
Bonus Prize : Here, you will forfeit the free games & win an instant & random bonus prize. The total bonus award can be anything between 5 coins – 225 coins per free game won, multiplied by your total bet multiplier.
Also note, if this bonus prize feature is played in combination with super free games, the bonus award can be anything between 17 coins – 788 coins per super free game won, further multiplied by your total bet multiplier.
Paytable Structure :
This game features a decent & superior payout structure. Here, the top-paying symbol is the woman icon who's enjoying her wildlife safari. Five such icons reward you with 500 coins.
Zebra : With five zebra icons, you will win 300 coins.
Giraffe : With five giraffe icons, you will win 200 coins.
Meerkat : With five meerkat icons, you will win 150 coins.
Rhino : With five golden rhino icons, you will win 100 coins.
The Final Verdict :
This is one of the most spectacular games in terms of great design & graphics. If you really want to enjoy a virtual wildlife safari trip, Rhino Charge will be a perfect game for you.
This review may not be applicable to all versions of this game that can be found online at Heart of Vegas casino or in your local pokies clubs.
Nice Win on Rhino Charge Below :