The eagle is one of the most sacred animals in the world and most religions and cultures regard an eagle highly. In Asia, the eagle symbolizes courage, strength and immortality. In ancient Rome, the eagle was seen as a messenger of the highest gods, this belief is still prevalent in some countries across Europe and in Africa.
Quick Start Guide Golden Eagle Slots
IGT in an effort to acknowledge the importance of the eagle in most cultures developed this slot game which features some sharp-eyed eagles on the reels. Get to know the different types of eagles as you spin this slot's five reels that come with 56 paylines.

** The terrific Golden Eagle IGT powered slot machine game can be enjoyed for free social gaming enjoyment or real cash money pay-outs today on an iPad, iPhone, Android, Windows OS device, PC or Mac. Learn more – at our online casino guides. **
Slot layout explained
Golden Eagle is set against a backdrop of the middle of a desert with some palm leaves gently waving on either side of the reels.
Reel symbols of note
The symbols on the reels include a male warrior, a female warrior, an eagle, lizard, and a leopard. There are also card suits namely Spades, Clubs, Hearts and Diamonds.
Base game symbols and pay tables
Male Warrior: The male warrior icon is the highest paying icon in Golden Eagle slot game. This icon fetches a 400x multiplier when you land five of these symbols on the reels, an 80x multiplier when you land four symbols, a 20x multiplier when you land three and a 2x multiplier when you land two symbols on the reels.
Female Warrior: The female warrior pays the second most in Golden Eagle. It fetches a 300x multiplier when you land five of these symbols, a 60x multiplier when you land four of these, a 20x multiplier when you land three and a 2x multiplier when you land two.
Eagle, lizard, and Leopard: These three symbols are the third most paying symbols in Golden Eagle. Five of the same kind fetch a 150x multiplier, four of the same kind fetch a 50x multiplier and three of the same kind fetch a 10x multiplier.
Card suits: These are the low-value icons in Golden Eagle fetching a 30x multiplier for five of the same kind and a 10x multiplier for four of the same kind.
Bonus Games and Features
Wild: The wild symbol in Golden Eagle is represented by the game logo icon. This symbol has a nudging feature that gives it the powers to push downwards all standard symbols on the reel/s that it appears leaving the reel wholly wild. Wild symbols also carry a payout when you match at least two. Two wilds give you a 4x multiplier, three wilds give you a 30x multiplier, four wilds give you a 150x multiplier and five wilds give you a 2000x multiplier.
Scatter: The scatter symbol is represented by the bonus icon. The scatter carries a payout when you match at least three. Three scatters give you a 2x multiplier, four scatters give you a 5x multiplier and five scatters give you a 10x multiplier.
Bonus symbols
The scatter symbol doubles up as the scatter symbol in this iPad compatible slot.
Free Spins feature
Three scatter symbols trigger the free spins feature. Three scatters reward you with 7 free spins, four scatters reward you with 12 free spins and five scatters reward you with 20 free spins. Landing two or more bonus symbols re-trigger the free spins.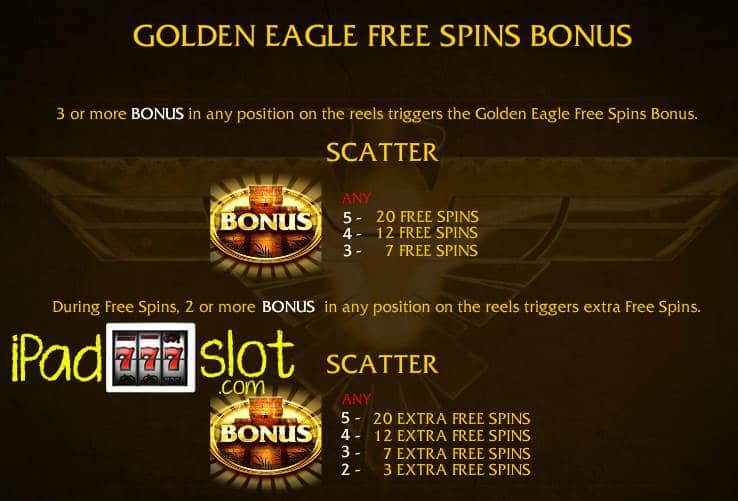 Slot rating
Golden Eagle is a iPad slot game with a nice unique difference from IGT. This slot gets an 7.6 point rating out of 10 points in our review.
Huge Win on Golden Eagle Slots Below