Having pay lines of 10, reels of 5 and rows of 3, this iPad casino game named Dancing Lion is quite popular in the world of Asian themed games. A creation of GameArt, this is one of the most colorful casino games that you would have ever come across at online casinos.
If you like this slot then another GameArt creation worth looking at is Dragon King.

Quick Start Guide Dancing Lion Slots
The central theme of making this game is showing the culture of China and all of its colorful festivals. There will be many players who have enough knowledge about this game. A temple in China is all hued with red depicting all the prestigious festivals of China.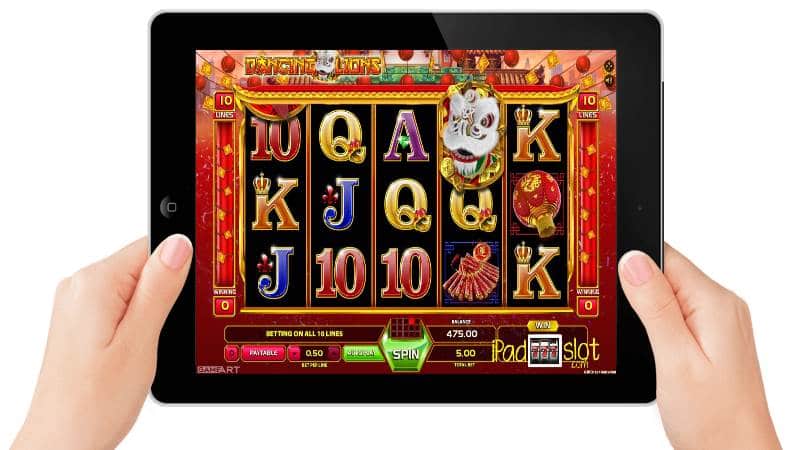 ** The Asian themed GameArt Dancing Lion slot game may be available to play for free social gaming or real cash rewards today on your iPad, iPhone, Android, Windows device, PC or Mac. Just view our online casino guides here. **
Game reel symbols
There are mainly eight reels, and they are the most important in this casino game, which is divided further into two more categories. The classic games are what makes up the first category. The Fireworks, drums and Lanterns are the main items in the game, which can provide many pays in just one spin of the reels.
Base game symbols and paytables
Lion: You can make the lion dance and get rewarded with 5000 coins for making them appear on payline 5. If payline 4, then no worry and still you get 1000. For 3, you will be rewarded with 100, and even 2 gives you 10 coins.
Lantern: The lantern glows to reward you with a maximum credit of 1000 for 5 and goes down in the order 200, 50 and 5 coins at a time for 4, 3 and 2.
Fireworks: Blast the fireworks to earn 500, 100, 25 or 5.
Drum: Play drums to enjoy rewards worth of 250, 75, 15, or 5 for 5, 4, 3, or 2 spins.
Poker Cards: Cards pay you, as usual, a low payout with Ace being highest among them. A, K, and Q pays 150, 40, and 10. J and 10 give 100, 20, and 5 respectively.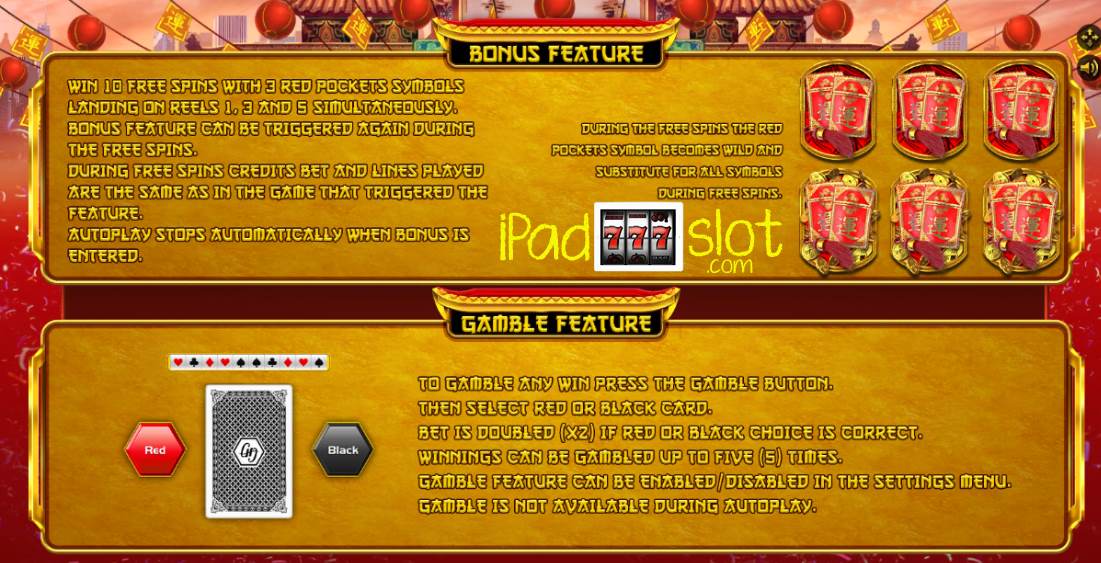 Bonus Games and Features
Wild: The symbol of Lion is a Wild symbol, which has the highest number of coins attached to it. By winning some of the ideally placed combinations, this card can be replaced with the other ones. The combinations of lions are most searched for in the play.
Scatter: The scatter ones are the Lucky charms. These are associated with luck and associated with 10 free spins. If scatter symbols appear on reels 1 or 3 or 5, then red color which is pocket can replace all symbols.
Free Spin Features: The symbol of Wild can also be found in many rounds of the game, and most of the spins are for free. Hieroglyphs with red pockets might look like a Lion card, but there is a vast difference between the 2.
Game summary 
Dancing Lions can be a great game for punters who love to play on limited paylines. Try your luck and have fun today on this super GameArt creation. It is all Chinese themed and one can get to know the culture of China in a more prominent dimension on your iPad. We have given this game a 7.4 from 10 points score.
Another Popular "Lions" Genre Slot Below "50 Lions Deluxe".