The culture of the Orient is full of dragons and so is the casino floor chocked with dragon genre games. This game is based on dragons in a big and exciting way and it is free to play or you can wager real money from our iPad casino reviews.
Quick Start Dragon's Temple iPad Slots
This game was released online in 2016 and is developed by IGT with the theme based on all things Asian. With reels of 5, rows of 3 and about pay lines of 50, it is an exciting game to play overall.

** The IGT Dragons Temple slot machine game can be played for free social gaming fun or real cash rewards today on your iPad, iPhone, Android, Windows device, PC or Mac. Learn more at our online casino guides. **
Slot layout explained
In the game, you have to choose any of the 5 dragons of your choice with different colors. They can help one to win the game. There is a secret temple in the game, which is given merely to the dragons. The dragons can give every answer to all of your questions, but you have to be friendly with them to get a little good luck 🙂
Game reel symbols
With the atmosphere of Chinese culture, this Asian game captures one of the beautiful memory of China. The Chinese lanterns, fishes, vessel ornaments, are the primary ways of depicting China and all are found in this game. The game has impressive sound effects and graphics.
Base Game Symbols and Paytables
Koi Fish: The scatter symbol has many benefits along with giving you 250 or 50 points for a 3 spin or 2 spin respectively.
Five dragons (Purple, Red, Green, Blue, and Golden): These dragons of many colors let you get 1000, 200, 50 and 5 coins.
Ancient Building: When the reel points these symbol, you can earn 500, 100, 30 or 5 credits.
Golden Glass: Offers you 400, 75, 25 and 2 points for spinning the reels on paylines 5, 4, 3 and 2.
Fish: If koi fish is a scatter, then a normal fish acts fast to give you 350 points as its best gift.
Chinese Lantern: The lucky symbol lantern will provide you with 250 points.
Poker Cards: Ace and King gives 200, 25, and 10 points in a line of 5, 4, and 3 spins. Queen gifts with 100, 20 and 5. Jack 50, 20, and 5. Ten gives 30 coins, 10 or at least 5.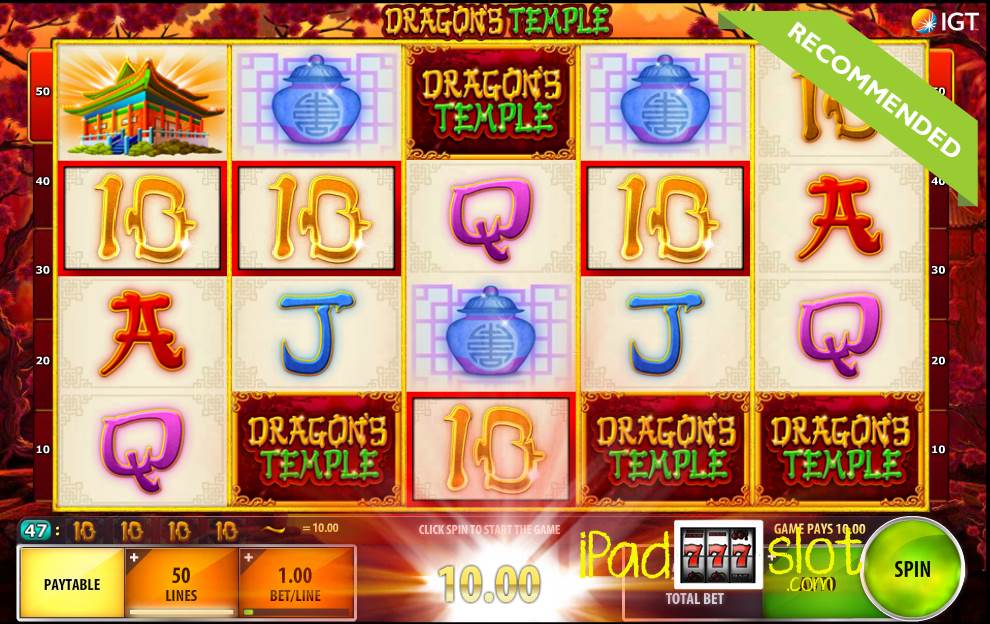 Bonus Games and Features
Wild: The wild symbol in a game is Dragon and five different dragons are available. An icon of Ying Yang can substitute the wildcard. There are positions of 3 in the primary reel, which becomes winning combinations. These combinations help one to win more amount of coins.
Scatter: The primary symbol in this game is the Ying Yang, which gives free spins in the slots of play. There are certain positions of reels that can give you alternatives in the game to choose from which you can earn more coins.
Free Spin Features: There are bonus rounds in the game and in total, there are free spins of 15 which you can get. The Wild symbol helps one to win bonus features all the time. The reels of 2 or 4 can give you to win free spins of 10, which is also a successful step in the game. With different alternatives of reels, you can get different bonus points and free spins. There is even one of 5, which helps in the game.
Auto-play Feature: There is a button known as auto spin, which helps you to change alternatives freely, and you don't have to turn it on your own. The free spins can be tried out all the same betting. If you are trying to deactivate the button, then you just have to change a number in the game.
Game score rating
This is a mobile-friendly game and can be also played on PC's and Mac's. The more free spins you get, the more prizes there is for you to win. It has an excellent RTP of 96.83% at our top rated iPad online casinos.
Dragons Temple 3 Slots – Nice Bonus Win