Bubble Craze is a popular iPad slot machine game developed by the famous developers of this era IGT gaming. The game possesses aqua-based natural phenomenon called as bubbles, and the slot is based on showing up different colored bubbles containing different payouts. This fun filled game has 5 reels and 25 winning payout with an RTP of between 92.65 to 96.20%.
Quick Start Guide Bubble Craze iPad Slots
Bubble Craze is a fun-themed aqua based slot machine game, which comes up with an unconventional character set and symbols of just having bubbles and types of bubble combinations, which are worth properties such as free spins and multipliers.

** The IGT Bubble Craze slot game can be played for free social gaming fun or real cash rewards today on your iPad, iPhone, Android, Windows device, PC or Mac. Learn more at our online casino guides. **
Game Payline Wins 101
The game contains a simple layout of 8 symbols and all of these symbols are nothing but colored bubbles with different payout and winning schemes.
Silver: The highest of the lot is the silver bubbles, which assures a maximum of 10000 coins.
Red: The red bubble assures a winning scheme of 5000 coins.
More: Symbols such as the Orange, Yellow pays out same number of 2000 coins for the maximum reels and all of these are ultimately backed with Green, Blue, Purple and Brown, which forms a complete set of main playing symbols of the game.
Bonus Symbols and Features
Bubble Wins: The Bubble Wins scheme of the game plays a part in generating wins, when a contiguous set of 4 or more similar color bubbles forms up the winning payout combinations. Apart from this, the wins up to 4 bubble wins are what can be achieved in a single game outcome. When payout is concerned, the highest win is paid per bubble win.
Transform Bubbles: In this form, some set of bubbles in the slot layout contains a transform symbol. With this particular symbol, the bubble changes all the nearby bubbles to the same color. Lastly, more than one single bubble may contain a transform symbol, which is reflected on a single spin itself.
Multiplier Bubbles: In this case, there are some bubbles, which contain multipliers of 2x or 5x values. During a bubble win, when a bubble contains a multiplier, ultimately that bubble win is multiplied henceforth. Lastly, the highest multiplier in the bubble win game stands a chance to win and have the payouts.
Free Spin Bonus: The free spin bonus in the game is activated when any 3 bonus symbols of any color combination helps in the round getting started and this begins with 5 free spins. For every free spin, there is a guaranteed payout with extra levels of bubble payouts. For the flip-side, the free spin bonus round cannot be re-triggered or re-combined in the same rounds 🙁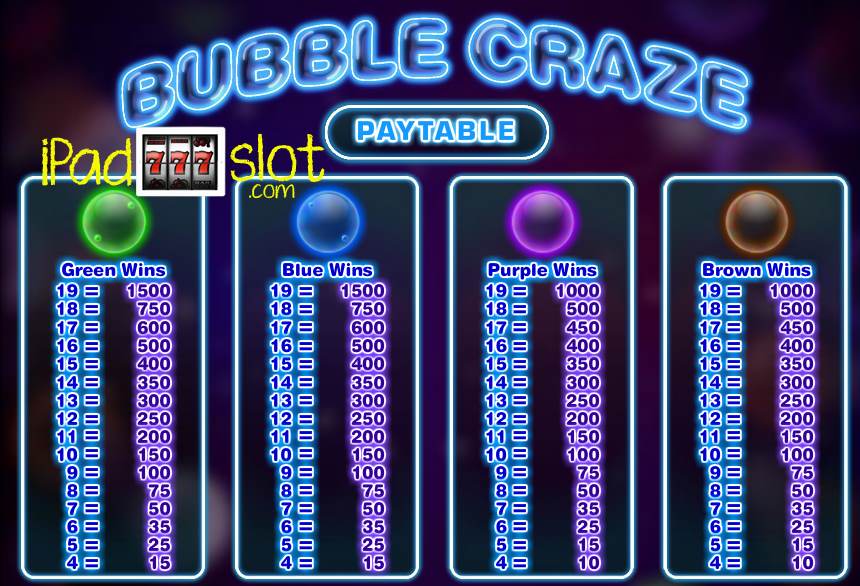 Summarizing Bubble Craze
Bubble Craze by IGT is a center of entertainment for all that love a Tetris style colorful theme. The game is filled with free spins, multipliers and all of them in the form of colorful bubbles and combinations. The payouts are decent and there and most players will be disappointed with this iPad slot game that gets a 6.0 points score from 10. It's a bit weird overall and personally and not my type of slot game to play (if you can really call it one anyway).
Nice Video Preview of Bubble Craze Below