The number eight is commonly considered to be lucky in the Chinese culture, so that's why it's referenced multiple times inside the game. Anyways, here are some of the features of this game which makes it an absolute delight to play for free or real money.
1421 Voyages of Zheng He Slot Guide
This is great Asian themed games with a 5×4-reel format developed by IGT with 88 selectable paylines.

The pay lines are between 8 – 88 which the players can choose from. One can pick a different amount per line, and it will automatically be multiplied.
For example, if you choose 8 lines and your amount is 3, so your total bet will be 24. You can at minimum choose the amount as 1, and the maximum can be 800.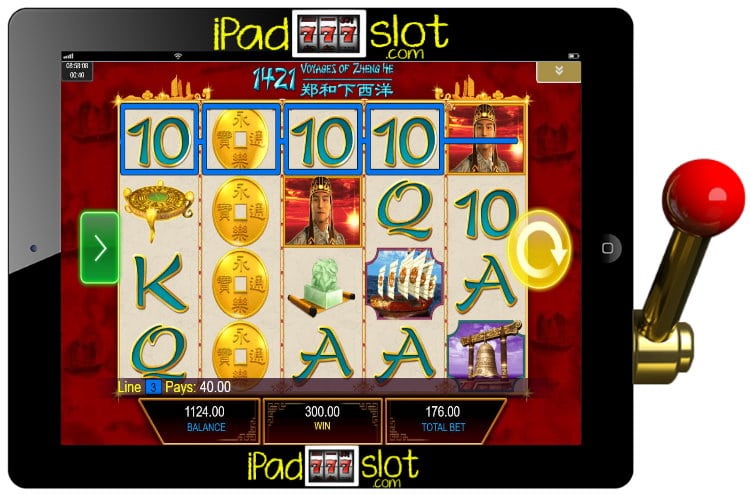 Symbols Explained
While playing the game, you can find different symbols including sailing shops, jade dragon statues, golden dishes, bells, and playing cards. IGT (the developer) has really depicted the scene so players get the feeling that they're a part of the voyage of Zheng He.
**The 1421 Voyages of Zheng He slot and/or many other exciting pokies games can be enjoyed for free fun or real casino payouts on an iPad, iPhone, Android or a Windows device, NB: you can just have a fun play on your PC or Mac computer, so take a look at our FREE games page here. **
Bonus Features Guide
There are 4 bonus modes included in this game which makes it even more interesting to play. So, the modes are:
Wild
Scroll Map
Cup Bonus
Free Spins
Wild
Interested in collecting some gold? Well, today is your lucky day! Because the wild mode is the gold coin, and 5 of them will pay you 88x your stake. Getting these gold coins can really make your day on your expedition of the sea!
Scroll Map
Scroll Map is one of the most prominent bonuses. You have to achieve at least three of Maps which will basically redirect you to four different special rounds. The four different bonuses have been mentioned below (Cup Bonus) and the 3 free spins.
Cup Bonus
The main idea of this feature is to pick the golden ball in hopes of getting a bonus of 102 times your line stake. The thought of this feature comes from the classic game where people are presented with "pick me" options. So, in this game, you are given 3 cups and you've to pick 1, and if you're lucky, you might find the golden ball.
Player Decision
Once you come across the 3 of the map scroll bonus features, you'll be redirected to "Player Decision" where you'll have the ability to choose from three different spin features which are stated below.
Free Spins
This bonus feature allows you to pick from three options such as:
The 1st spin feature allocates you with 10 free spins
The 2nd spin feature allocates you with 15 free spins
The 3rd and last spin feature allocates you with 20 free spins
Payouts
For detailed information about the payouts, the developers have created a paytable inside the game settings to view. The Golden Coin (also known as the Wild) is the highest paying symbol in the game. If you manage to grab 5 of those, you get a jackpot of 888 coins (lucky number!).
This is a web-based game which you can access using your mobile browser or laptop via browsers (e.g. Chrome, Firefox, ). Once the game is presented to you, it will ask you about your sound preferences.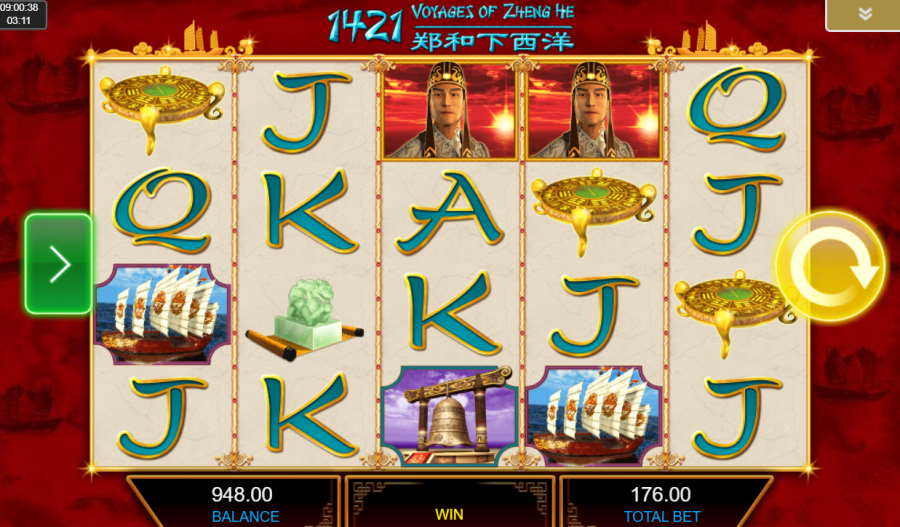 Who was Zheng He?
Before talking about this online slot game known as "1421 Voyages of Zheng He", it is important to know a little bit about the main character of this game which surprisingly is a real person taken from the history of China. Zheng was not only an explorer but also a mariner and diplomat. This game was inspired by his voyages of discovery.