Game developers are responsible for developing casino games, the one key ingredient which draws 'customers' (players) to the online gaming industry is the fun factor. Even when you are not winning the game still needs to provide entertainment while you are doing your cash 🙂
As such, in this article, we look at the some of the most innovative, popular and fun creative slot games from Ainsworth. They have played a key role in not only attracting new but also in retaining regular players who love their games as they have a certain style about them that makes them the go-to games for many casino punters.

Great Ainsworth Slots to Play for Free or Real
In coming up with the following great Ainsworth slot games, we looked for a number of things which include the quality of game graphics, user interface, game navigation and simplicity of play, profitability in terms of Return to Player percentages as well as mobile compatibility meaning you can access and play all of the game belows on your iPad, iPhone or Android with or without an app.
These games are in no special order, some newer slots and some classic favourites are mentioned below. Many of these Ainsworth slots can be played for real money online just view our approved Ainsworth online casino guides.
---
1. Grand Bazaar – The Market Place of Slots
Two factors combine to make Grand Bazaar an incredible slot game i.e. the game theme as well as the game graphics. This slot has an Eastern theme which is brilliantly accentuated by the exquisite game graphics. When spinning the reels of this slot, players will feel like they have just been transported to the Middle East as in the background, there is a huge structure similar to the structures (in design) commonly found in the Middle East.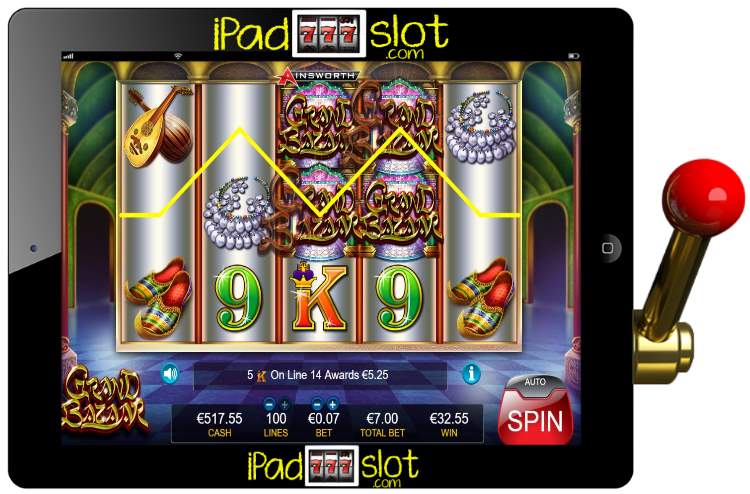 On the reels, players will encounter all sorts of symbols from shoes, jewellery, gems and musical instruments. The mixture of the symbols is understandable considering that the title of this game is taken from the largest and oldest cover market in the Middle East (which goes by the same name i.e. Grand Bazaar) where all sorts of artifacts and bits and bobs are for sale. In terms of bonus features, this game does not offer much apart from the Free Games Feature.
When playing at select online casinos for real money, this online slot machine comes linked to a progressive jackpot whose prize pool exceeds $9,000,000 (social version). Grand Bazaar slot has five reels and 100 paylines of pure excitement.
---
2. Egyptian Dreams – Discover Shiny Treasures
Egyptian Dreams is a game from Ainsworth which is an adaptation of the famous Egyptian Dreams Book. The Egyptian Dreams Book was written and preserved in the form of a papyrus with a hieratic script. Later on, the book was translated into many languages and also 'copied' onto paper. Recently, the Egyptian Dreams Book was published online. When spinning the five reels of this slot game, players will get to learn all there is to know about the contents of the Egyptian Dreams Book.
The symbols on the reels are all linked to the Egyptian culture and all of the symbols symbolize something from fortune, warnings, advice to prophecies. The game's brilliant graphics help in bringing out the beauty of the theme. It's not just the theme which makes this online slot game a great proposition but also the presence of progressive jackpots.
There are three progressive jackpots i.e. the Mini, Minor and Major; the Major Jackpot has the highest prize pool which exceeds $5,000,000. The bonus features in this game include the Re-Spins Feature and the Free Spins Feature to rack up some nice wins.
---
Well, the title of this online slot machine does reveal all there is to this game. When playing the game, players will encounter monkeys in a jungle. Simple isn't it. Well, the simplicity of this game is one factor which makes it a great slot game but apart from that, another huge attracting factor pertains to the game graphics. The exquisite graphics used in this game help in making an otherwise banal theme look and feel like an incredible theme, ultimately, making the game an incredible game! In the background of this slot game, players get to see a huge forest.
On the reels, the player will encounter some palm trees, eagles, bananas and of course, the monkeys themselves. When it comes to profitability, need we say more than just say that the highest payout in this game is a cool $100. This is made much more impressive by the fact that the slot comes with a Free Games Feature which awards players up to 20 free games.
Winning the free games will ensure that the player stands a chance of winning real money payouts even when spinning the reels for free! As if this is not enough, when playing at certain online casinos, Jungle Monkeys slot come linked to progressive jackpots hence you can also hit a progressive jackpot. This slot has five reels and 100 paylines of colorful fun.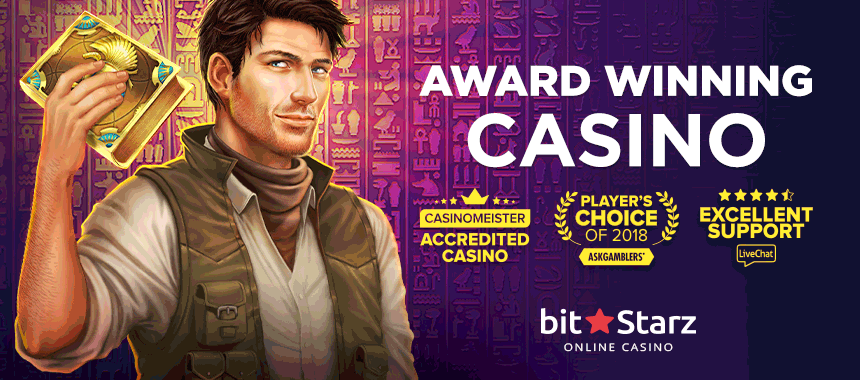 ---
4. Exotic Moon – Orient Themed Fun
Sometimes, a cute beautiful lady is all that it takes for a good game to be a great game. Imagine spinning the reels while a beautiful lady is by your side and cheering you all the way, you will surely win, won't you? And on top of that, you will surely spend hours and hours spinning the reels while at the same time appreciating the beauty in front of you. This Ainsworth powered slot game makes the above possible as a beautiful lady will regularly pop up on the reels when playing the game. Forgetting the beautiful lady for a minute, there are also other factors which make Exotic Moon a must play game.
First, there are the multiplier values on the paytable. The payouts in this game are determined by multiplier values and as such, all you need to know is that the higher the stakes you use in wagering, the more you stand to win. Wins in this game do not just come from the paytable only but you can also win some free games as there is a Free Games Feature and you can also win a jackpot as there are two highly lucrative progressive jackpots. Exotic Moon slot has five reels and 50 paylines to keep you in the black.
---
Jade Emperor King Strike is first and foremost an oriental themed slot. However, the oriental theme is not a standalone theme as it's fused by a Royal theme also. This, therefore, means when spinning the reels, players can expect to meet an Asian Royal family. What makes this slot game a must play game is the way in which the theme is brought out i.e. through the exquisite game graphics.
The brilliant game graphics literally 'command' all players to give Jade Emperor a try. Apart from the theme, there are also other factors which are equally as important. Notably, there are the numerous bonus rounds which include the Free Games Feature where players stand to win up to 25 free games and the King trike Bonus. The King Strike Bonus enables players to hit on of the four jackpots linked to the slot i.e. the Mini Jackpot, Minor Jackpot, Maxi Jackpot and the Major Jackpot. Jade Emperor King Strike has five reels and 30 paylines to keep your credits up where you like them.
---
6. Crystal Cash – It's Just About the Bucks 🙂
Being real, many players flock to online gaming in search of one thing i.e. money (profits). As such, for those who join the gambling bandwagon simply because they are in search of profits, a great game according to them is a game which is highly profitable. It is in light of this that we added Crystal Cash on our list of top Ainsworth powered slot games as it's a real classic pokies (slot) machine loved from the casinos in Sydney to Las Vegas.
Crystal Cash is a game which offers players many opportunities of getting some awesome payouts. Firstly, there is the basic paytable which has some outstanding payouts; the highest of which is a cool $1,000,000 (free play social version) paid when the player lines up five blue diamond scatter symbols.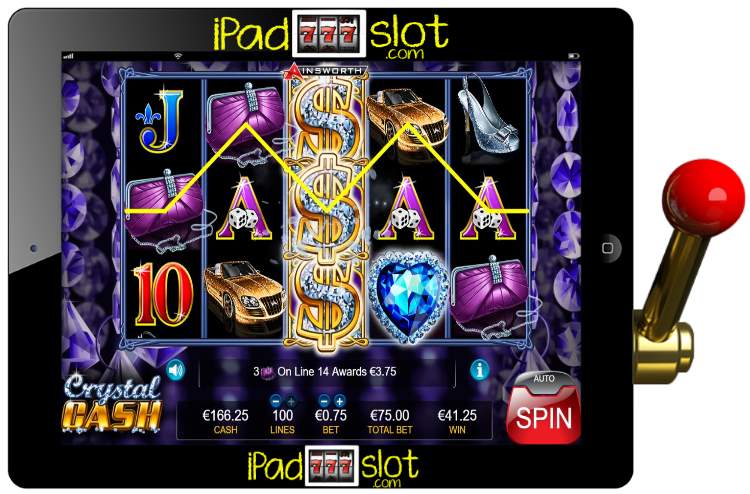 Just to expand on this and show players how Crystal Cash is a must play game when it comes to profitability, this online slot machine's lowest payout stands at a cool $500! This, therefore, means whenever you land a winning combination, you know you are looking at 500 bucks or more, great isn't it.
As if these outstanding paytable payouts aren't enough, Crystal Cash also has a Free Games Feature which allows players to spin the reels for free while at the same time, standing a chance to win real money. Players can also double the fun when playing at select online casinos as Crystal Cash may be linked with progressive jackpots. This slot has 5 reels and 100 paylines of awesome pay-outs.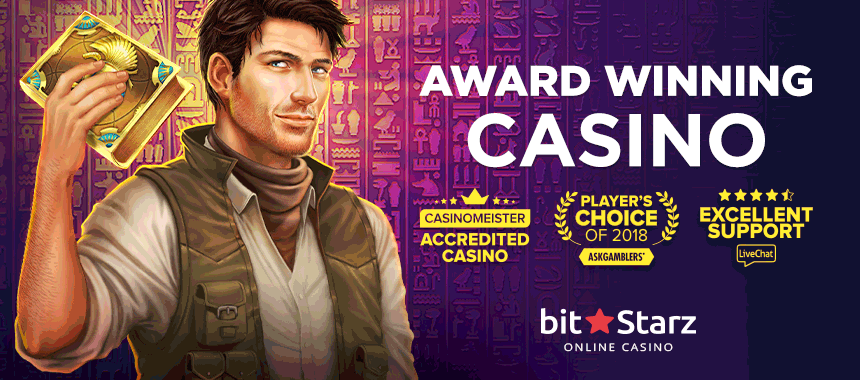 ---
7. Witches Gold – It Spells Big Rewards
Witches, in real life they can be good or bad depending on which side you are. If you are on their side, then you are safe as their spells may help you earn some favours. However, if you are on the opposite side, then their spells may spell doom. Be that as it may, when it comes to the witches in Witches Gold, an online slot game from Ainsworth, you can expect nothing but favour and fortune in this cracker slot app.
It is due to the favours and fortune afforded to players that this slot game is a must play for all punters. For lining up five witches clad in black, the player stands to win the game highest prize of over a $1,000. Another beauty of this game is that it is linked to a progressive jackpot whose prize pool exceeds a cool $7,500,000! (depending on the version though).
---
8. Cash Cave – Enter For Some Nice Wins
Many will take the title of this slot to be just a figurative title but alas, this in real terms is a 'literal' title. As such, when spinning the reels, players will find themselves deep down inside a cave and in this cave, there are some hidden 'icons' which when found, are exchanged for cash. It is the cash that you get during the exchange which makes Cash Cave a must play game. Here, we are not just talking about a few dollars but big money. Some of the icons hidden in the cash cave which you can exchange for cash include gold bars, vaults and precious gems.
One thing to note though is that you will need to uncover three or more icons in order to exchange them for the cash. Apart from the excellent payouts, the game graphics which accentuate the theme of the game makes this slot an absolute enthralling game. To make the game even more appealing, Ainsworth added two bonus features which are the Free Spins Feature and the Cash Cave Feature. Cash Cave slot game has 5 reels and 100 paylines and just the best bonus features.
---
They say all work no play makes Jack a dull boy. Sometimes in life, a holiday is all we need in order to refresh and freshen up for new challenges and opportunities ahead. Safari Spirit from Ainsworth is a holiday-themed slot (with a special focus on the safari) which allows players to go on a virtual trip to the plains of Africa. It is the brilliant way in which the exquisite game graphics accentuate the theme of this slot which makes Safari Spirit an absolute must play mobile game.
On the reels, players can expect to encounter lions, leopards, wildebeests, giraffes and elephants. This game is also highly profitable with the highest base game payout being a cool $1,500. For a more rewarding experience, there is also a Free Games Feature. Playing at select online casinos, Safari Spirit does come linked to a progressive jackpot. This online slot game has five reels and 30 paylines and super duper bonus features.

---
10. Roaring Riches – A Great Progressive Slot
Roaring Riches, do you wonder just how rich will you be when your riches start roaring? If you do, then you certainly have to play this Ainsworth powered slot game. The curiosity to know how rich you will be when your riches start roaring is one factor which pulls players to play this game but apart from that, there are also other pull factors. First, there is the issue of the excellent base game payouts which come in the form of multiplier values.
This, therefore, means the higher the stake the player wagers with, the more the payout he stands to win. Secondly, there is the highly progressive jackpot whose prize pool exceeds $9,200,000 (depending on the slot version). The beauty of this progressive jackpot is that it can be hit at random. Last but certainly not least, the immersive game graphics makes Roaring Riches an appealing slot game to play. Roaring Riches has five reels and 50 paylines and it's a classic Ainsworth slot machine.
---
** We have amazing news for you! Many of the Ainsworth slot machine games that we have reviewed above are available to play for free on your iPad, iPhone, Android, Windows device with or without an app install, or play for free on your PC or Mac computer with no downloads. To play some games take a peek at our FREE games page here. 
**
---
Summary 10 Great Ainsworth iPad, iPhone & Android Slots
If you are going to play slots on your mobile or tablet for free or real money you cannot go past any of the above Ainsworth games. From the ones that granny played to the latest games that can be enjoyed at Players Paradise for free, you are in for a real exciting Ainsworth experience.
What the Future Holds for Casino Players
According to data released by several economic think tanks, online gaming is regarded as one of the fastest rising industries in the world. In the past decade, revenue figures in the online gaming industry have more than doubled, with the mobile revolution playing a huge role in the rise of the online gaming industry.
At this point, projections are that the amount of mobile slot players will double or triple in the next three to five years mainly as a result of the emergence of new gaming platforms such as Virtual Reality, although this may just fad out like 3D TV's did 🙂
The Mobile Casino Slot Game Revolution
Though the mobile revolution and the emergence of new gaming platforms have been key in helping the gaming industry to reach dizzy heights, there is also another crucial factor which has (and continues) to help the online gaming industry to grow in stature with the influence great slot game developers like Ainsworth leading the way forward.
---
NB – Many versions of the above iPad, iPhone and Android Ainsworth free and real money slot games may exist online or at land casinos, the reviews should be taken as an general overview of the slot machine and always refer to the game screen for the most accurate info about paylines, pay-outs and bonus feature rules. NB- Some of the games that we have reviewed above can be found at the Players Paradise casino on FB.

---